Quevedo is one of the capitals of banana and oil palm cultivation in Ecuador. It is the most populated city in the province of Los Ríos (150,000 inhabitants). Due to agricultural growth, native forests no longer exist in this tropical zone.
At 58 years of age, Jácome has become a rural leader and university professor. This has been his permanent struggle: to be the only one of his 14 siblings to leave the countryside to study and to return to lead the agribusiness parallel to other economically powerful groups -- "because here we live a narco-agriculture," he says with vehemence but also with fear.
The modified banana developed at ESPOL is resistant to black sigatoka, one of the main tropical diseases in this crop. Currently, the team at the university's Center for Biotechnological Research of Ecuador (CIBE) has 20 genetically modified plants.
Due to the prohibition of cultivation of the modified banana, researcher Santos is adapting a greenhouse as an extension of the laboratory on the ESPOL campus. He plans to plant in large pots, like 500-liter water reservoirs, so that the soil is contained.
Jácome has his small banana crops in Quevedo as part of his family orchard because the export market is controlled by the Association of Banana Exporters of Ecuador (AEBE), which is a 43-company conglomerate. Ecuador is the largest banana exporter in the world (33% of the international market), competing with Costa Rica and Colombia in the region. According to AEBE, bananas account for 3.84% of total GDP and 50% of agricultural GDP. It is the nation's main source of non-oil exports, according to the Central Bank of Ecuador.
Jácome's colleague from the agricultural center, Mario Macías, says that as a farmers' union "we cannot say whether we are against transgenics or not." His main concern is the indiscriminate use of glyphosate, a chemical used to control weeds in crops. In Quevedo, they have also found transgenic soybean crops that were denounced by the NGO Ecological Action to the Ombudsman's Office. No one knows for sure who is distributing these seeds.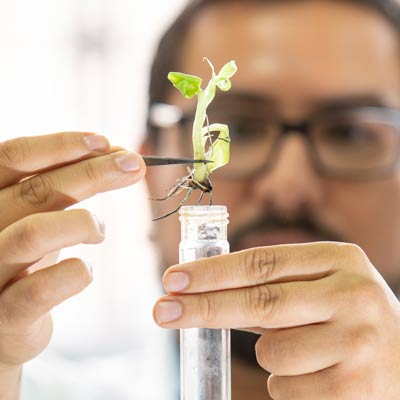 Paradoxes in Ecuadorian regulations
The Constitution of Ecuador (2008) declares the country "free of transgenic crops and seeds"...